Your browser must be set to accept cookies to access the admin area.

Welcome to the Canadian Biomaterials Society!
The Canadian Biomaterials Society (CBS) is an incorporated, not-for-profit organization dedicated to the development of biomaterials science, technology, and education in Canadian universities, industry, and government.
Thank you for joining us at the 2014 Canadian Biomaterials Society Annual Meeting in Halifax!
Join us May 27-30, 2015 in Toronto! Details to come in the coming months.
Sticking Together - An Elastic Surgical Glue (1 comment)
2014-09-24 18:42:01 by Yinan Zhang
Please check the "2014 Bright Futures Prize" to support our technology developed to advance medicine and patient care (https://www.youtube.com/watch?v=W1QAmchlkAk&feature=youtu.be)You can vote for "Sticking Together - An Elastic Surgical Glue (Nasim Annabi, PhD)" at the following: http://4623745...
CBS Board Election Results (2 comments)
2014-07-04 07:25:00 by Isabelle Catelas
The results of the 2014 CBS Board elections are now in and it is with great pleasure that we are able to announce the new President-Elect and other members of the Board of Directors (BoD). Four Senior BoD positions (instead of 3) were filled due to the fact that Dr...
Biomaterials Colloquium in Montreal, May 1st, 2014 (0 comments)
2014-04-14 09:31:23 by Yinan Zhang
We invite you to participate in a colloquium organized by CBS-Montreal Student Chapter of the Canadian Biomaterials Society (CBS). This half-a-day meeting will take place at the brand new CHUM Research Centre in downtown Montreal on May 1st 2014 from 1:00 pm to 7pm...
In Memoriam: Dennis Smith (0 comments)
2014-02-25 08:36:58 by Todd Hoare
Dennis Smith, among the early founders of modern-day biomaterials and a well-known mentor to many senior scholars who have shaped CBS, has passed away. His obituary is copied below. If you have memories of Dr...
---
Total Results: 28
Last |
Next
| Page:
1
2
3
4
5
6
7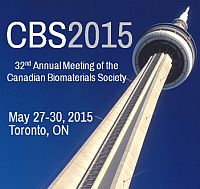 Biomaterial Highlight of the Month
Conditions for the Co-culture of Human Gingival Fibroblasts and Vascular Endothelial Cells (HUVECs) in a Perfused Polyurethane (D-PHI) Scaffold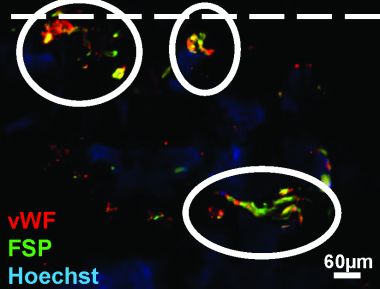 Recent Logins